VOC-42 WMA Audio KJV Bible - Chapter Files - 75 hours - (6) CD data disks
<![if !vml]>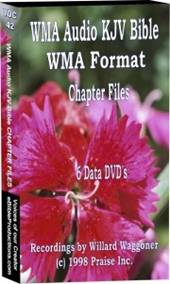 <![endif]>
Press to play a audio sample for John Chapter 03 the start of a new beginning for your life.
John Chapter 03
These audio recordings are copyrighted and eBibleProductions has a signed license from the copyright owner to sell these recordings of the KJV Bible which are recordings by Willard Waggoner (former missionary to India).

· Listen to this WMA audio Bible as you travel using an WMA compatible car stereo or while using a portable CD WMA player

· This is the complete Audio KJV Bible in WMA (Windows Media Audio) Format

· User friendly access with the complete Bible on (6) CD data disk with chapter files in book folders for these audio WMA files

· WMA (Windows Media Audio) format files are transferable from your PC to your WMA player

· WMA files can be played from your computer or your WMA DVD or CD player

• Higher Quality than other competitor's product on (1) or (2) CD's MP3 Bibles

• Media: Complete KJV audio Bible on 6 CD Data Disks for your computer or your WMA compatible CD or DVD player

• Technology: 75 total hours of audio in full Stereo Formatted for full stereo quality from WAV masters Recorded in a Professional Studio for 100% DIGITAL Quality Will work with any WMA portable player.
Item Name: WMA Audio KJV Bible - Chapter Files - 75 hours - (6) CD data disks
Item Number: VOC-42
Price: $19.95
Fill out for free KJV Bible e-Book & News from eBibleProductions.com about using today's technology to spread God's Word. Your e-mail address will be kept absolutely confidential and we promise it will not be shared with any other party.